South Carolina Detachment FRCE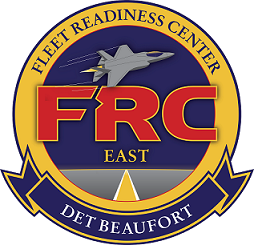 FRC East's primary facility is centrally located on the eastern seaboard, accessible by air, rail, highway, waterway, and deep-water port facilities. The command also has permanent sites at Marine Corps Air Stations New River, N.C., and Beaufort, S.C.; and Joint Base McGuire-Dix-Lakehurst, N.J. The main facility includes 123 structures with a total of 2 million square feet – 1.65 million of production space. It is spread across 147 acres, and it's estimated it would cost about $1.2 billion to replace its buildings and equipment. In summary, FRC East's primary goals in supporting the warfighter are taking care of the customer, its people, and the business.
During the week of July 17-21 the President, Vice President and the Lodge Educator traveled to Beaufort, South Carolina to meet with bargaining Unit Employees and Lodge members located on MCAS Beaufort, S.C.
A couple of years ago these workers were merged into the FRC East as a requirement of the Base Realignment and Closure Commission (BRAC) decisions.
As a result of that (BRAC) order a small detachment of FRC East employees work diligently incorporating AC changes and modification to F18s for their military customers.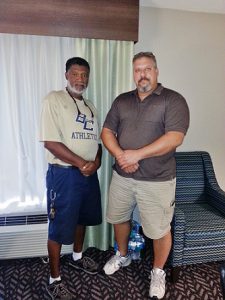 The other reason for traveling to the Beaufort location was to provide training to the Chief Steward and his Alternate Chief Steward who have the responsibility of enforcing the Negotiated Agreement between FRC East and IAM Local 2297.
Pictured on the left are the Stewards at the Beaufort, South Carolina location.