Obama/Perez Historic Rule Change on Overtime
Overtime Wage and Hour Division (WHD)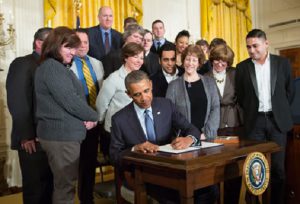 Defining and Delimiting the Exemptions for Executive, Administrative, Professional, Outside Sales and Computer Employees under the Fair Labor Standards Act
On May 18, 2016, President Obama and Secretary Perez announced the publication of the Department of Labor's final rule updating the overtime regulations, which will automatically extend overtime pay protections to over 4 million workers within the first year of implementation. This long-awaited update will result in a meaningful boost to many workers' wallets, and will go a long way toward realizing President Obama's commitment to ensuring every worker is compensated fairly for their hard work.
In 2014, President Obama signed a Presidential Memorandum directing the Department to update the regulations defining which white collar workers are protected by the FLSA's minimum wage and overtime standards. Consistent with the President's goal of ensuring workers are paid a fair day's pay for a hard day's work, the memorandum instructed the Department to look for ways to modernize and simplify the regulations while ensuring that the FLSA's intended overtime protections are fully implemented.
The Department published a Notice of Proposed Rulemaking (NPRM) in the Federal Register on July 6, 2015 (80 FR 38515) and invited interested parties to submit written comments on the proposed rule at www.regulations.gov by September 4, 2015. The Department received over 270,000 comments in response to the NPRM from a variety of interested stakeholders. The feedback the Department received helped shape the Final Rule.
Key Provisions of the Final Rule
The Final Rule focuses primarily on updating the salary and compensation levels needed for Executive, Administrative and Professional workers to be exempt. Specifically, the Final Rule:
Sets the standard salary level at the 40th percentile of earnings of full-time salaried workers in the lowest-wage Census Region, currently the South ($913 per week; $47,476 annually for a full-year worker);

Sets the total annual compensation requirement for highly compensated employees (HCE) subject to a minimal duties test to the annual equivalent of the 90th percentile of full-time salaried workers nationally ($134,004); and

Establishes a mechanism for automatically updating the salary and compensation levels every three years to maintain the levels at the above percentiles and to ensure that they continue to provide useful and effective tests for exemption.
Additionally, the Final Rule amends the salary basis test to allow employers to use nondiscretionary bonuses and incentive payments (including commissions) to satisfy up to 10 percent of the new standard salary level.
The effective date of the final rule is December 1, 2016. The initial increases to the standard salary level (from $455 to $913 per week) and HCE total annual compensation requirement (from $100,000 to $134,004 per year) will be effective on that date. Future automatic updates to those thresholds will occur every three years, beginning on January 1, 2020.
Although the Office of Management and Budget (OMB) has reviewed and approved the Final Rule, the document has not yet been published in the Federal Register. The Final Rule that appears in the Federal Register may contain minor formatting differences in accordance with Office of the Federal Register publication requirements. The OMB-approved version is being provided as a convenience to the public and this website will be updated with the Federal Register's published version when it becomes available.
More on this from…Article appearing 05/17/2016 aflcio.org/
Here are seven things you need to know about the new rules:
The middle class needs a raise

.- Working families are struggling to pay the bills and the middle class is shrinking. Working people have helped corporations rack up record profits, but we are not sharing in the benefits.
Restoring overtime is necessary to ensure that working people get paid for all the hours we work.

– One of the reasons why paychecks keep falling behind is because too many people can be forced to work overtime at no extra pay. Under the new rules, more people will get paid time-and-a-half whenever we work more than 40 hours in a week.
Restoring overtime will give millions of families a pay raise

. – Restoring overtime is the single most significant step the administration can take to boost wages for working people. If the new rules are what they are rumored to be, 4.2 million people will be newly eligible for overtime pay and another 8.9 million people who are already eligible will be able to prove their eligibility more easily. Restoring overtime will help working families climb the economic ladder and break into the middle class—especially women, African Americans, Latinos and millennials.
Restoring overtime will create jobs and increase the hours for people who work part-time

. – Even opponents of restoring overtime admit it will create more jobs. To get around paying time-and-a-half, many employers will choose to hire new employees—or allocate more hours to their part-time workers—and pay them straight time.
Restoring overtime will help the economy grow

. – Restoring overtime will put more money in the pockets of working people, and we will spend that money in our communities and set in motion a virtuous circle of more investment and more hiring. It's working people, not the wealthy few, who drive economic growth.
Overtime protections have eroded since 1975

. – The whittling away of overtime protections is one of the ways the rules of our economy have been rewritten to favor corporations over working families. Even with these new rules, the share of people who are automatically eligible for overtime pay (regardless of their job duties) will still be lower than it was in 1975.
Restoring overtime will give people more time away from work

. – There is overwhelming evidence that overtime protection is effective in preventing overly long work days. Under the new rules, fewer people will be forced to work long overtime hours for no extra pay. Reducing excessive hours will make working people healthier and more productive.