North Carolina's Union Movement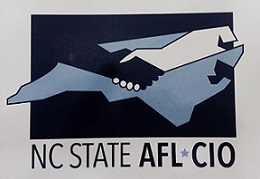 The North Carolina State AFL-CIO is the largest association of unions of working people in North Carolina, representing a hundred and thirty thousand members, working together for good jobs, safe workplaces, workers' rights, consumer protections, and quality public services on behalf of ALL working people.
The contributions of all local unions in North Carolina are vital to sustaining our state's labor movement. Each local's views and energy in addressing concerns common to all workers are what our movement needs. We are a democratic organization, governed by a constitution, and accountable to our member unions. The affiliated membership elects our leadership – two full-time officers and an executive board representative of unions across North Carolina. The programs we undertake and the services we offer are also determined by our membership.
The Executive Board Officers & Staff
President –

MaryBe McMillan

General Counsel –

Mike Okun

Communications Director / Operations Manager –

Jeremy Sprinkle

Campaign Manager / Field Program Coordinator –

Aiden Graham
North Carolina State AFL–CIO's – Vice Presidents
Note: The Vice Presidents are selected by the Unions they are members of.  At each constitutional Convention the nomination of the union VP is voted on by the delegates attending the Convention. The term of office is 4 years however sometimes vacancies occur between Convention and the applicable union would appoint one of its' members to serve the remainder of the term. For such reasons the names of the Executive Board VPs may change during terms.
The Plan Executed In 2018
The Long-Term Direction of the NC State AFL-CIO in order to build a bigger, more engaged, more powerful movement to win victories for North Carolina working families will be revealed soon.
The newly elected Executive Board members above attended a special Retreat style meeting on March 15 & 16 2018 at a N.C. state park near Greensboro where they put their brilliant minds together to develop a plan to win victories for the working men and women in the state and their families. The primary focus was on developing a long term strategy for the future. Several goals were adopted and a plan to address the short term desires will be the topic of our next Board meeting in June.
Organize the South! – NC State Federation bring together participants from affiliated Unions across the state, Working American and APRI to brainstorm and develop strategies to build worker power, change the political landscape, and organize even more unions in North Carolina for immediate and long term victories for all working people!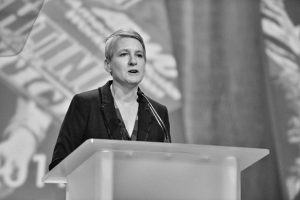 North Carolina was well represented at the 2017 AFL-CIO convention in speeches, floor debates, and panel presentations by state federation president MaryBe McMillan, AFGE National President and State Fed Vice President J. David Cox Sr., Triangle Labor Council Treasurer and North Carolina A. Philip Randolph Institute (APRI) Executive Director Melvin Montford, and IATSE Local 322 Stagehand and Charlotte City Council candidate Braxton Winston II.  
A Few Captured Photos At The AFL-CIO National Convention
Workers' Bill of Rights