MaryBe McMillan, Another First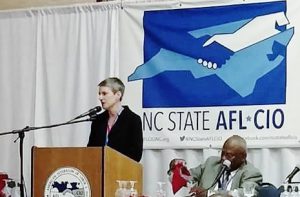 North Carolina's Labor Federation Elects First Woman President
McMillan has served as Secretary-Treasurer of the federation since 2005. She has spearheaded the cause of getting national and international unions to invest in and organize the South. Before beginning her career in the labor movement, she worked with housekeepers trying to organize at North Carolina State University, and after receiving her PhD in sociology did public policy research for several progressive nonprofits. In 2004, she took a job at the AFL-CIO's Union Community Fund, where she met Andrews – beginning a 12 year partnership fighting for working families in North Carolina.
More about Marybe – MaryBe McMillan is now President of the North Carolina State AFL-CIO. With her election to this position in 2017, she became the first female president in the history of the organization and is one of nine women leading state AFL-CIO federations in the country. Prior to her election as President, she served 12 years as Secretary-Treasurer—again the first woman to serve in that position.the NC State AFL-CIO, she worked for the national AFL-CIO's Union Community Fund, as Research Director for the Common Sense Foundation, and as State Policy Analyst for the Rural School & Community Trust.
MaryBe grew up in Hickory, North Carolina. She became involved with union organizing as a student and is passionate about organizing workers in the South. MaryBe frequently speaks to groups around the country about the importance of building a strong labor movement in the South.
MaryBe graduated with honors from Wake Forest University with a Bachelor of Arts degree in sociology. She also holds a Master of Arts degree from UNC-Greensboro and a doctorate degree in sociology from NC State University. MaryBe is a member of the International Union of Operating Engineers (IUOE) Local 465 in Durham, North Carolina.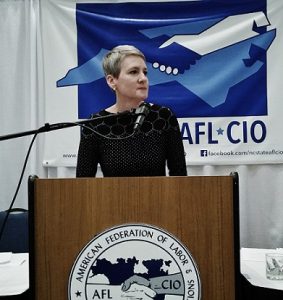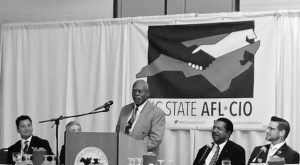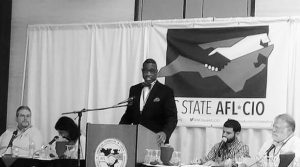 IAM Machinist Members Caucus At The 60th North Carolina State AFL-CIO Convention Held At Atlantic Beach To Select The Representatives Who Will Serve On their Behalf As Vice Presidents On The State Federation's Executive Board. The Machinist Are Entitled To Two (2) Seats. (above)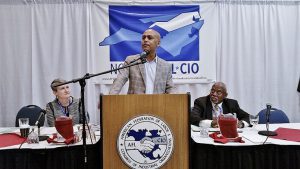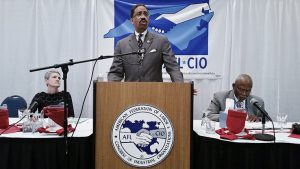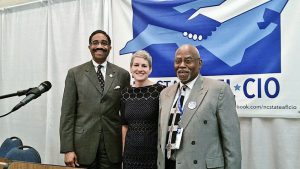 North Carolina's Governor Roy Cooper addressed the Delegates in attendance at the 60th Convention of the N.C. State AFL-CIO and Awarded Retiring President James Andrews the Order Of The Long Leaf Pine THE STATE'S "HIGHEST HONOR"…For more than four (4) decades of service to the labor movement. (above)