2016 IAM Legislative Conference "Machinist On The Hill"
Machinists Hit Capitol Hill To Talk Working Family Issues
IAM President Bob Martinez delivers the keynote address at the 2016 IAM Legislative Conference in Washington, DC.
Hundreds of IAM members are on Capitol Hill this week lobbying Congress on the issues that matter to working families. The annual IAM Legislative Conference draws member activists from all corners of the country to Washington, DC to meet with members of Congress to discuss trade, health care, retirement security, workers' rights and more.
A top priority is fighting the Trans-Pacific Partnership (TPP), a NAFTA-style trade deal that threatens to offshore even more U.S. and Canadian manufacturing jobs, this time to Asian countries with rock-bottom wages and few workers' rights. Congress could vote on the TPP as soon as the lame-duck session, the period between the November elections and when the new Congress takes office in January 2017.
 U.S. Sen. Cory Booker (D-NJ), right, speaks with IAM members after delivering a speech at the IAM's 2016 Legislative Conference.
 U.S. Sen. Dick Durbin (D-IL) said he grew up in a household with five union cards in East St. Louis, IL.
The time to put the pressure on legislators who might be on the fence is now, said IAM International President Bob Martinez.
"We've seen what happens to towns that lose their main industry," Martinez said in the conference's keynote address. "More people compete for fewer jobs, creating a glut that drives down wages. Families that lived in the same area for generations are torn apart as young people have no choice but to leave."
U.S. Sen. Sherrod Brown (D-OH), a consistent ally against bad trade deals, told delegates the TPP is "all about corporate handouts and worker sellouts."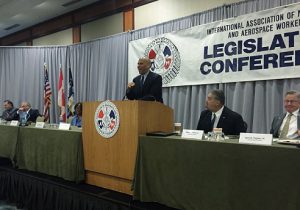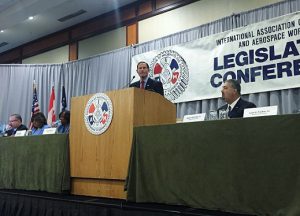 Delegates are also pressuring legislators on a host of other issues affecting the IAM and its membership. "Anything we do for our members at the negotiating table can be undone in Washington with the stroke of a pen," warned IAM Legislative Director Hasan Solomon.
Right-to-work laws are spreading throughout the country, but not without a fight. Efforts by the IAM and other labor groups beat back recent attempts at right-to-work in New Mexico and Missouri. A suit brought by IAM District 10 in Wisconsin is currently blocking the Badger State from implementing its own right-to-work law. But, "if Trump is elected, you can bet one of the first things he pushes is a national right-to-work law," said Martinez.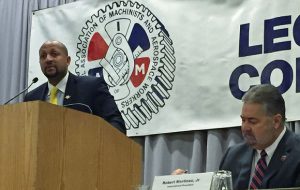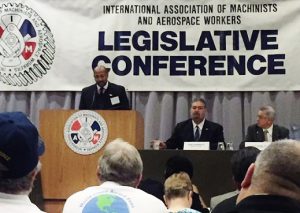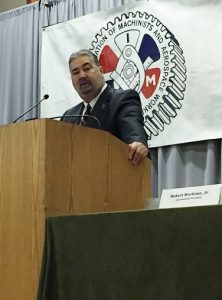 IAM members are also beating the drum on GOP stall tactics being used to hamstring President Obama's nominations to the Export-Import (Ex-Im) Bank and the U.S. Supreme Court. Without a quorum, the Ex-Im Bank is unable to provide funding for projects over $10 million, which hurts IAM members making aircraft and other products for foreign buyers. Senate Republican leadership continues to refuse to hold hearings for Supreme Court nominee Merrick Garland, a moderate and respected judge who would give the High Court a full slate of nine justices.
Delegates are working to fully repeal an impending 40 percent excise tax on health care benefits that's scheduled to take effect in 2020. The added cost is already being passed onto workers, say IAM negotiators.
Defined benefit pensions, formerly one of the most reliable ways to fund retirement, are also under attack in Washington. A law passed in 2014 allows "deeply troubled" multi-employer pension plans to cut benefits for current retirees. IAM members are encouraging legislators to support the Keep Our Pension Promises Act, which would restore America's promise of not cutting benefits to retirees.
Federal employees are continuing to battle attacks on their pay, benefits and right to join a union. In the transportation sector, the IAM is fighting for adequate penalties for assault against airport Customer Service Agents, more rest for overworked Flight Attendants and for the very well-being of the airline industry as a Norwegian carrier attempts to undercut U.S. wages and worker protections.
IAM members will be hearing from more Capitol Hill allies and lobbying through Thursday. It's already been a busy week, but as Sen. Cory Booker (D-NJ) told delegates: "Change doesn't come from Washington, it comes to Washington."